A Crown in a Day – Is it Possible?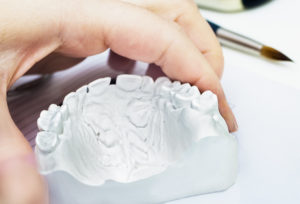 Sometimes decay or trauma can cause your tooth to become so damaged that you may need some support in order to keep your natural roots. That support comes in the form of a dental crown. The traditional crowns take two appointments to complete. The first appointment is when your tooth is cleared of decay or dead material, impressions are taken, and the area is fixed with a temporary crown. At the second appointment, which occurs a few weeks down the road, the permanent crown is fitted in your mouth and made a permanent structure. If you do not want to wait that long without a tooth or do not have the time for two appointments, you can get a crown in a day.
CEREC Technology
CEREC technology utilizes computer aided drawing to create your crown while you are sitting in our dental chair. This technology takes a digital image of your damaged tooth, which is then used to create the crown. Before the actual porcelain is manipulated and made into your crown, the perfect size and shape are created on the computer screen in order to ensure a perfect fit for you. Once the images are perfect, we will create the porcelain crown in the milling chamber. The finished product will be your crown!
A Perfect Replacement
The porcelain that is used to create your crown is made into the proper shade and shape before it is placed in your mouth. Once ready, your mouth is prepared for the new crown by chemically bonding the crown to the area. This enables you to keep your tooth's natural roots while having a full restoration that allows for proper chewing, talking, and smiling with ease!
Patients love the CEREC technology because the entire process is completed in one appointment. This means no more back and forth waiting for your restoration. It also means that you do not have to worry about your diet and appearance during the waiting period for your restoration. While a temporary crown can be a great way to make your mouth feel as natural as possible and enable you to chew certain foods, excessive chewing is not recommended as the crown could come loose. The idea is to keep your mouth safe and clean while you wait for the restoration. Rather than waiting, getting the same day crown may be the perfect answer for you!