A Smile's Best Friends: Crowns and Bridges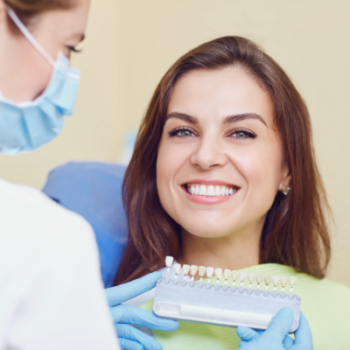 Welcome to Holman Family Dentistry, your trusted partner for achieving a healthier and more radiant smile! Today, we want to shed light on two essential dental solutions that can restore not only your oral health but also your self-confidence: dental crowns and bridges. These versatile treatments have been transforming smiles for years, and we're excited to share their benefits with you.
What are Dental Crowns?
Dental crowns, often referred to as dental caps, are custom-made covers that fit over your natural teeth. They are used to restore the appearance, shape, and function of damaged or decayed teeth.
When are Dental Crowns Recommended?
Protecting a weak or cracked tooth
Covering a tooth after a root canal treatment
Restoring a severely decayed tooth
Improving the appearance of discolored or misshapen teeth
Anchoring dental bridges
The Crown Placement Process
We'll walk you through the step-by-step procedure of getting a dental crown. From the initial examination to the final placement, you'll learn what to expect during your crown restoration.
What are Dental Bridges?
Dental bridges are a reliable and aesthetic solution for replacing one or more missing teeth. They consist of artificial teeth (pontics) held in place by dental crowns or implants.
Why Choose Dental Bridges?
Restore your smile and confidence
Prevent adjacent teeth from shifting
Maintain proper bite and speech
Distribute the forces in your bite evenly
Types of Dental Bridges
Explore the different types of dental bridges, including traditional bridges, cantilever bridges, and implant-supported bridges. Each has its unique benefits and considerations.
Boosted Confidence
Discover how crowns and bridges can enhance your appearance and help you regain the confidence to smile, talk, and eat without worry.
Improved Oral Health
Learn how these restorative treatments not only address cosmetic concerns but also ensure the long-term health and functionality of your mouth.
Durability and Longevity
Explore the longevity of dental crowns and bridges, and how they are designed to withstand the demands of everyday life.
Chapter 4: The Holman Family Dentistry Difference
Our Expertise
Meet our team of experienced and compassionate dentists and learn about their commitment to providing top-notch care.
Cutting-Edge Technology
Explore the advanced technology and materials we use to create custom crowns and bridges that seamlessly blend with your natural teeth.
Patient-Centered Care
At Holman Family Dentistry, we prioritize your comfort and well-being. Read about our patient-centered approach and the importance we place on your individual needs.
Your smile is one of your most valuable assets, and with dental crowns and bridges, you can keep it shining brightly. At Holman Family Dentistry, we're dedicated to helping you achieve the smile you've always dreamed of. Whether you're in need of a crown to protect a weakened tooth or a bridge to fill the gap left by a missing tooth, we're here to provide you with quality care and exceptional results.
Don't let dental issues hold you back. Contact us today and schedule a consultation to explore how crowns and bridges can restore your oral health and give you the confidence to smile with pride. Your journey to a healthier, more beautiful smile begins here, at Holman Family Dentistry.