Are Dental Cleanings Essential? Let's Find Out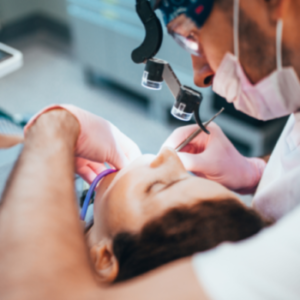 We all know regular dentist visits are vital for maintaining oral health. Your teeth can withstand decay and damage better if you follow a thorough oral hygiene regimen. But is it sufficient? For optimal dental health, brushing and flossing should be done frequently. However, they are ineffective against hard-to-remove tartar and plaque. Due to this, regular professional dental cleanings are essential.
A dental cleaning every six months is the simplest and easiest way to prevent disease. Maintaining an attractive smile is another good reason to visit the dentist for regular dental cleaning sessions. Read further to learn why professional cleaning is essential.
Timely Diagnosis and Treatment
Dental cleanings have several steps. In the first phase, your dentist will thoroughly examine your mouth to look for signs of any unwanted growth or bacterial activity. They will also perform an X-Ray for a deep analysis of your mouth. These steps help to identify outgrows in your oral cavity, like tumors or cysts, that help in early diagnosis.
Combat Periodontal Disease
A professional dental cleaning can prevent periodontal diseases by reversing your gingivitis. Note that the primary cause of these diseases is poor oral hygiene. By combatting this issue, you can ward off the risk of diseases.
Prevent Cavities
Cavities are one of the most common preventable childhood diseases. You can prevent cavities with excellent oral hygiene and healthy eating habits. But due to poor lifestyle habits, preventing the issue has become nearly impossible. With regular dental cleanings, the experts will identify small cavities or areas with a risk of forming cavities, preventing the situation from worsening.
Eliminate Halitosis
Plaque in your mouth can lead to bad breath. Regular cleaning can remove the plaque from the mouth, giving you a squeaky clean mouth. There will be no bad breath that can stop you from socializing and impact your confidence.
Save Time and Money
Oral health issues get worse if you ignore them. Avoiding dentist visits will harm not only your oral health but also be heavy on the wallet. Dental procedures such as root canals, cavity fillings, or tooth extractions can be costly. Regular dental cleanings can help you avoid these costly procedures to eliminate the root cause of oral diseases.
Reduces Pain
If you are dealing with severe pain, a dental cleaning may help you. The doctor will look for the issues that might be causing pain, such as cavities. They will treat the problem and offer you guidance to prevent the issue in the future.
How are Dental Cleanings Performed?
Here are some phases that you need to go through in the process.
A thorough oral exam
Removal of tartar and plaque
Teeth polishing
Flossing
Applying of Fluoride
Take Away
So, now you know why dental cleanings are essential. Book an appointment today and enjoy a pleasant and attractive smile – no more bad breath and discolored teeth. Your dentist can reach places where your regular toothbrush cannot.