Best Summer Fruits for A Healthy Smile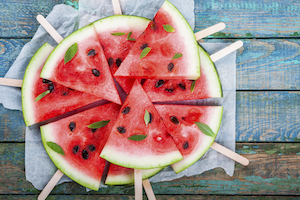 Not all fruits are considered great for your teeth due to the natural sugars they contain, but eaten as part of a healthy diet and followed up by a good oral hygiene routine, they can help your smile. During these summer months, many people want to be able to enjoy the seasonal fruits that come into our local markets a bit more. Here are some of the best fruits to include in your diet, or to put into your next fruit bowl for a party, that will still keep your teeth looking great.
Great Summer Fruits to Indulge In
Strawberries not only give your teeth a nice dose of Vitamin C, but they also naturally help to remove the stubborn surface stains on your teeth. The more you chew on them, without sugar, the more benefits your mouth gets out of the deal. If you want to boost the power of your friend, the strawberry, then smash your fruit down to a pulp and combine it with a little baking soda. This will help brighten your teeth naturally, and not taste like medicine!
Bananas are natural tooth whiteners, too. Not only do you not have to worry about a banana sticking to your teeth, but you can also use the inside of the peel to boost the vitamins and minerals your teeth can absorb. Push the inside of the peel against your teeth for about two minutes each time you eat a banana, and your teeth will naturally be able to absorb the manganese, potassium, and magnesium that it provides.
The Vitamin C boost you get when you eat watermelon makes this fruit even more luxurious. You get a gentle cleaning when you eat the watermelon, plus, your teeth and gums get an anti-oxidant wash that helps to decrease your chances of suffering from gum disease. On top of that, watermelon is also known to help boost your immune system!
Holman Family Dentistry Still Needs to See You This Summer
Contact us today and let us take a few minutes to help keep your teeth healthy, and your mouth will thank you for it. Plus, then you can go to all of those summertime festivities with a bright, white, beautiful smile.