How When you Eat Affects your Dental Health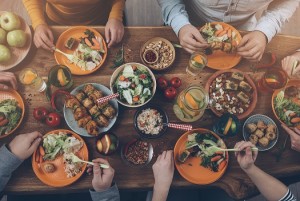 If you focus on eating healthy foods, then you are on a good start to healthy teeth and gums. Avoiding sugar, high starch and sticky foods is one of the best things you can do to prevent tooth decay and even gum disease. But even if you are the healthiest eater, you can be doing damage to your teeth without even realizing it. If you eat often throughout the day, rather than limiting yourself to 3 meals and an occasional snack, you could be putting your oral health at risk.
Saliva Production
Your saliva production plays a large role in the health of your teeth. If you do not produce enough saliva, the sugar and food particles that reside in your mouth do not get washed away. You can think of saliva similar to the blood flow throughout your body. Without a proper flow, things do not work properly. Your saliva helps to break down the food that you consume, helps to keep your teeth strong by providing the necessary calcium and fluoride that builds strong teeth and helps to fight infection.
Chewing Produces Saliva
One of the best ways to produce adequate saliva is by chewing. If you snack throughout your day rather than eating a full meal, you might not be chewing enough for saliva to be produced. This leaves the foods that you snacked on sitting on your teeth until you brush. If you do not brush and/or floss immediately following consumption of the snack, it puts you at risk for tooth decay and gum disease. If you do choose to snack, try to snack on healthy foods, such as fruits and vegetables or low-fat dairy.
Brushing Often
If you do find that snacking is your preferred way to eat, it is important to be conscientious about how often you brush your teeth. Because your saliva production is likely lower than it needs to be, you should brush immediately following your snacks to limit the risk of tooth decay and gum disease. If the food is left to sit all day, it will form with the bacteria in your mouth, creating acids that will eventually eat away at your enamel, causing tooth decay and your teeth to become weaker.
Your diet plays a very important role in your oral health. Take a look at your typical dietary consumption to see where you could make changes if you find that you experience a great amount of tooth decay. Chances are that you could make a few changes that will have a positive impact on your oral health, allowing you to experience fewer cavities and lower your risk of gum disease.