The Importance of a Dental Baseline for your Child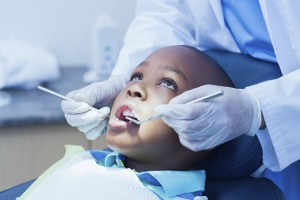 If your child does not visit the dentist regularly, he does not have a baseline for the dentist to compare any changes that might occur in his mouth. This could prove to be detrimental to your child's oral health, especially since a child's mouth can change in a very short amount of time, even just a few months. Your child's mouth is continually growing and needs regular monitoring to ensure that everything is going as it should without any intervention.
A Child's Bad Habits
Many children have habits that affect their oral health in a negative way. Thumb sucking, biting fingernails and drinking out a bottle or sippy cup can all be damaging to your child's oral health. Getting your child to break the habit can be very difficult. One way that you can help is by bringing him in for regular dental checkups. We will examine your child's mouth, comparing any x-rays or exam notes to his baseline to determine if his bad habits are causing damage to his mouth. We can assist in many ways, including helping to restore his teeth to the way that they should be as well as to give you methods to help him break the habit.
When Problems Get Out of Hand
If your child has any bad habits that damage his oral health, they could eventually get out of hand. As your child's mouth grows, his ability to speak normally or even to chew and swallow properly could be harmed. Establishing a relationship with the dentist will let your child become comfortable with going to the dentist and having any oral health issues resolved. This will help to allow you to get a jump start on any issues early on, preventing serious issues from occurring down the road that could have permanent effects on your child's life.
Dealing with Fears
The best way to alleviate fears of the dentist is to take your child for his first visit as young as possible. Even if your child is older and has not yet been to the dentist, it is never too late to get a baseline. The earlier that you take your child for a dental appointment, the earlier that you can catch any problems; this will also allow the procedures required to correct any issues to be less invasive. This gives your child a chance to create a good relationship with the dentist, making it easy to keep regularly scheduled appointments throughout your child's life to ensure optimal oral health for many years to come.