What Happens When You Have Chipped Veneers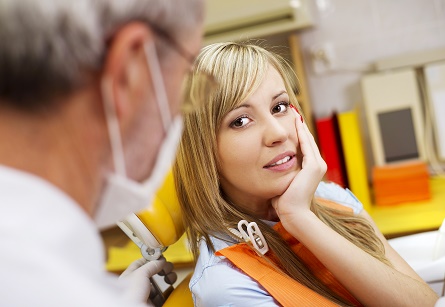 Dental veneers are a wonderful way of transforming your smile and fixing damaged, gapped, discolored, or crooked teeth.  Unfortunately, sometimes a dental veneer—much like the tooth that it is covering—can be damaged or chipped due to the rigors of biting and chewing.  When this happens, we are here to help you get things fixed up and looking great again.
First, determine what happened.
Sometimes a veneer will chip or break while it is still attached to your tooth.  If this is the case, we will need to make you a new veneer.  On the other hand, occasionally a veneer will simply de-bond from your tooth.  That means that the adhesive which holds the veneer to the tooth will lose its grip and the entire veneer will come off.  If this is what has happened to you, we can usually re-attach the veneer without the need for creating a new one.  This process is quick, easy, and will see you back out there leading your normal life in almost no time at all.
Let us know you're coming.
You'll need to tell us what happened and that you are coming in to have it worked on.  We'll clear a spot on the schedule for you so you won't have to spend too much time waiting in the waiting room.
Make sure that you bring the part of the veneer that came off with you.  This is especially important in the event that your entire veneer came off; if you can bring it in in one piece it can save you the cost and time of having a new one made.
Don't panic.
Above all, don't get too worked up about the whole incident, and don't worry about your tooth.  When a veneer is put into place we only do a minimal amount of shaping on the underlying tooth.  This means that it will most likely be able to continue functioning as a normal tooth and you may not even notice that much of a difference in your ability to bite and chew.
We're here for you.
At Holman Family Dentistry, we work hard to keep your smile happy and healthy.  We will do whatever it takes to get your veneer repaired or replaced in a minimal amount of time.  Come see us, or call us if you have any questions!