Why Should You Educate Your Child About Good Dental Health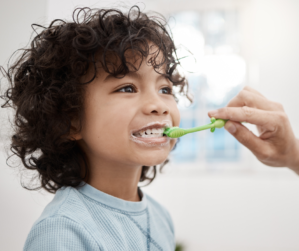 Teachings should dental health should be conveyed to children as soon as they get eight to nine months. As they become more attentive and carefully observe things happening around them, being the right role model for them at this point can be a game-changer. Especially when it comes to their overall dental health.
Habits Learned Early Disappear Late
Teaching good oral habits to children in their formative years can benefit you immensely in the longer run. At this stage, the best thing to do is to lead by example, as your child will be a keen observer but not a very good listener yet. So, instead of explaining to a one-year-old why they should brush every day, brush in front of them. Habits learned in these formative years are more likely to last a lifetime; therefore, you should not let this golden opportunity go in vain.
Promotes Wellbeing
Every parent wishes to see their children prosper in life, and no parent wants to see their little babies suffering in pain only because they chose temporary pleasure over learning good habits. Teaching good oral habits to your child will allow you to display a positive picture in front of them, which will help them make the right choices for their health in the future.
Good dental health is directly linked with a good image of oneself. Therefore, it can be said that if you are free of dental problems, you will have high self-esteem and improve your overall quality of life.
Better Associations With Dental Experiences
When you educate your child about good dental habits and encourage them to act on these habits every single day, you take away the anxiety they may have in the future when they have to go see a dentist for their dental problems. Making children aware of their oral hygiene and the importance of regular checkups from an early age makes them confident. They do not feel anxious about visiting dentistry when they are old, as they have all the pleasant memories attached to this experience.
Prevention is Better than Cure
Teeth decay and gum diseases are some of the common problems people face as they get old. The primary reason for this is that they are not taught to take care of their teeth from an early age, and they have been given the liberty to eat as many candies as possible just because they are kids. If correct guidance is provided at the right time, people will be less likely to experience dental problems.
If you have questions about your child's dental health, book your appointment today at Holman Family Dentistry!